Aquatic Adventures Summer Camp
Gulf Specimen's Aquatic Adventures Summer Camp 2018 was a great success!
Gulf Specimen's Aquatic Adventures Summer Camp 2018 was a great success! We had 4 weeks of learning and adventures with some amazing kids!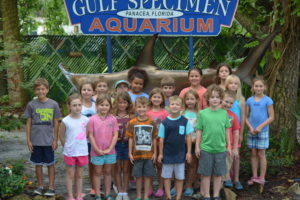 Each week was filled with educational activities that focused on our local marine life and ecosystems, as well as, local geology (karst topography and springs), fossils, coastal birds, manatees, gopher tortoises, and bears. We spent time here at the aquarium learning about different species that can be found right here in our coastal waters. Each group toured our Living Dock and learned about fouling communities and salt marsh ecosystems. In addition to touring Gulf Specimen Aquarium, we had some amazing guest speakers from FWC that gave talks about manatees, black bears, and the gopher tortoise. ANERR (Apalachicola National Estuarine Research Reserve) also provided educational programs every week of camp. The first week they visited and did a program with the kids about hermit crabs, which was a lot of fun. The following weeks we took a field trip to their facility and participated in some great activities about wrack lines and oysters, and learned a lot about estuaries. Campers also took field trips to Wakulla Springs and learned about the karst topography that creates the wonderful cold springs found here in Florida, and of course got to swim.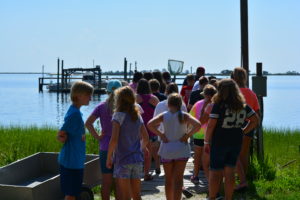 We were excited to see returning campers from last year, and were eager to meet and work with our new campers. Thanks to all of the parents who brought their children to our Aquatic Adventures Summer Camp. We hope they had a blast, I know we did!
I would also like to give a special thanks to everyone who made this year's camp such a success, by providing educational programs for us. Thanks to ANERR for providing onsite programs, as well as allowing us to visit their facility. Thanks to FWC for providing multiple programs during our camp, everyone had a great time.
We hope to see you again next year for more outdoor adventures!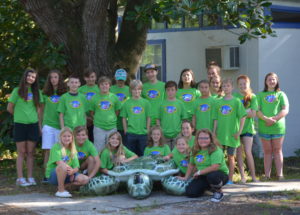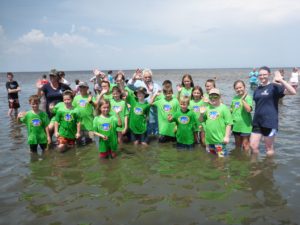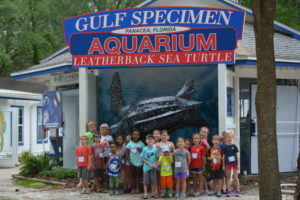 Please email all forms to woodallj@gulfspecimen.org