Marine Aquarium
Our living assortments offer an economical way to receive a large variety of animals. Many rarely encountered organisms are included and may be seen alive for the first time. Since life in the sea is constantly changing, and creatures move in and out of our estuaries, our assortments are always changing with them. They are never the same from one year to the next. Many specimens not listed in this catalog are likely to appear. Make no mistake about it: our assortments are unique and different from anything provided by any other biological supply house.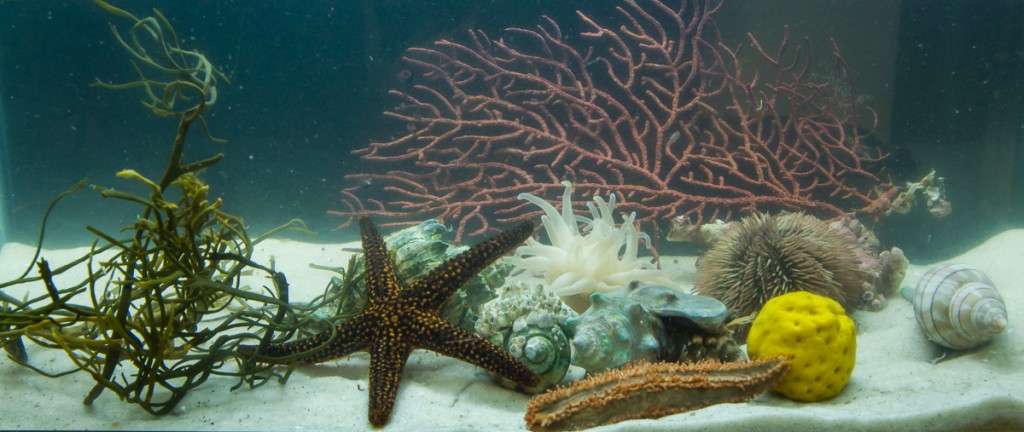 AS-02 MARINE AQUARIUM ASSORTMENT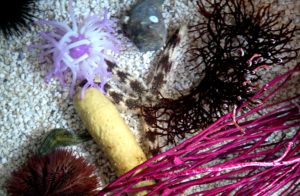 For 20-gallon tank, small
1 Colorful sea anemones, Condylactus, Calliactis, Bunodactis, or Ceriantheopsis, species as available.
1 Starfish, Echinaster, Luidia, or Astropecten
2 Brittlestars, Ophioderma
2 Sea urchins, Arbacia or Lytechninus
1 Colorful and hardy sponge, Axinella, Xestospongia, Cliona
1 Sea whip, Leptogorgia
2 Living shells or rocks — might include: Chitons, Feather Duster Worms, Serpulids, Boring Sponges, etc.
2 Hermit crabs, Clibanarius or Pagurus
2 Snails, Cantharus or Nassarius
1 piece algae
1 Sea Cucumber, Pentacta or Thyonella
Small $120
AS-02 MARINE AQUARIUM ASSORTMENT
For 30-gallon tank, medium
2 Colorful sea anemones, Condylactus, Calliactis, Bunodactis, or Ceriantheopsis, species as available.
2 Starfish, Echinaster, Luidia, or Astropecten
4 Brittlestars, Ophioderma
2 Sea urchins, Arbacia or Lytechinus
1 Colorful and hardy sponge, Axinella, Xestospongia, Cliona
1 Sea whip, Leptogorgia
4 Living shell or rock — might include: Chitons, Feather Duster Worms, Serpulids, Boring Sponge, etc.
2 Hermit crabs, Clibanarius or Pagurus
4 Snails, Cantharus or Nassarius
1 Piece algae
2 Sea Cucumbers, Pentacta, Thyonella
Medium $170
AS-02 MARINE AQUARIUM ASSORTMENT
For 55-gallon tank, large
4 Colorful sea anemones, Condylactus, Calliactis, Bunodactis, or Ceriantheopsis, species as available.
2 Starfish, Echinaster, Luidia, or Astropecten
4 Brittlestars, Ophioderma
4 Sea urchins, Arbacia or Lytechinus
2 Colorful and hardy sponges, Axinella, Xestospongia, Cliona
2 Sea whips, Leptogorgia
8 Living shells or rocks — might include: Chitons, Feather Duster Worms, Serpulids, Boring Sponge, etc.
3 Sea Cucumbers, Pentacta, Thyonella
2 Whelks or Conchs, Busycon, Pleuroploca, or Fascioloria
2 Bi-Valves, Mercenaria, Chione, Noetia or Aequipecten
1 Bryozoan, Schizoporella, Bugula, or Amathia
1 Cluster — Sea Squirts, Styela
2 Compatible Fish
2 Hermit Crabs, Clibanarius or Pagurus
1 Piece algae
Large $240