Phylogenetic Assortments
PHYLUM PORIFERA
Once considered 'sea vegetables', sponges are animals made up with simple arrangements of cells that lack organs. They grow from tiny encrusting colonies a few cells thick to massive boulders with a dazzling array of form and color. Some species are living habitats with numerous commensal anemones, polychaete worms, brittlestars, crabs, shrimps, and nudibranchs living deep within their protective canal systems partaking of the food and oxygen bearing currents that are pumped throughout the colonies. They provide shelter for smaller organisms in the tank. Because sponges are natural suspension feeders, they help filter aquarium water. They thrive on small amounts of brewers yeast. Generally, sponges are best kept in cooler water, 60F to 70F.

AS-17 SPONGE ASSORTMENTS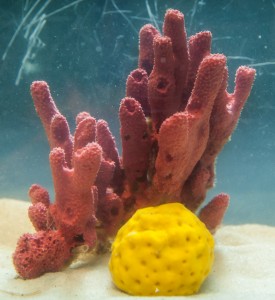 Small Assortment – 5 Species
8 Individual Colonies $120.00
Medium Assortment – 7 Species
14 Individual Colonies $170.00
Large Assortment – 10 Species
20 Individual Colonies $240.00
PHYLUM COELENTERATA (CNIDARIA)                                                                 Flowers of the sea, the hydroids, anemones, corals and jelly-fishes, all bearing whorls of stinging tentacles around their mouths, are stubbed with tiny stinging nematocysts. Long coiled threads of toxic proteins uncoil rapidly and stab into an unsuspecting victim delivering a severe and immobilizing sting. Most nematocysts, however are too small to penetrate human skin. In the aquarium, fish and other mobile invertebrates seem to be aware of the danger and keep their distance. Jellyfish should not be kept in the aquarium. They and ctenophores should be kept in separate containers, such as large plastic garbage cans filled with sea water, without aeration or agitation to prolong their life. Hydroids, anemones, hard and soft corals should be fed every few days with freshly hatched brine shrimp, or clam juice pipetted directly over the polyps.

AS-18 COELENTERATE ASSORTMENTS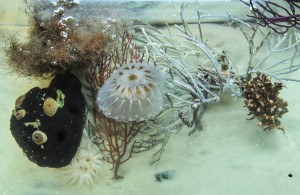 Colorful anemones from our tanks, hydroid, corals, gorgonians, sea pansies and if scyphozoan jellyfish are pulsating in our bay, they are included along with shimmering examples of the phylum Ctenophora.
Small Assortment – 15 Specimens $120.00
Medium Assortment – 25 Specimens $170.00
Large Assortment – 40 Specimens $240.00
PHYLUM ANNELIDA
Enter the segmented world of the bristleworms, found from the ocean's depths to the high tide line. Sedentary terrebellids live under rocks in tubes, with a spectacular floral array of tentacles coming from their heads, while errant nereids meander about the mud. There are scyllid polychaetes so small, they may only be seen by teasing apart the tissues of sponges.

AS-20 POLYCHAETE ASSORTMENT.
To include unnamed terrebellid, nereid, and cirratulid, tube building, free living and encrusting polychaetes that live in sponges, corals, and tunicates. A veritable grab bag of worms.
Each: $ 82.50
PHYLUM MOLLUSCA
The creeping foot, the unsegmented body and shell secreting mantle are brought to life in the mollusk. Spirals of the shell, created by mantle secretions fascinate the eye. Bivalves, clams, oysters and mussels sit peacefully on the bottom filtering single celled algae from the water, while ravaging whelks seek them out with predatory intent. With a drilling radula that would put a dentist's drill to shame, boring snails rasp through the shells of other gastropods. Meanwhile, segmented chitons cling peacefully to rocks and shells, while ancient scaphopods dig their way down into the sand. With splendor of color and diversity of form, nudibranchs, snails without shells, glide by partaking of anemones and hydroids. Undulating gracefully, soft bodied sea hares that exude ink only when disturbed scrape green and red filamentous algae from the aquarium glass
.
AS-22 MOLLUSK ASSORTMENTS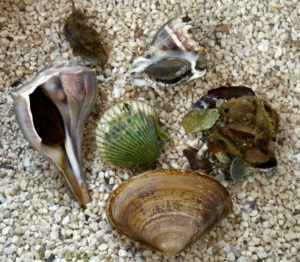 Included are chitons, clams, mussels, whelks, snails, and nudibranchs. When abundant, scaphopods and/or frilled sea hares may be included.
Small Assortment – 15 Specimens $120.00
Medium Assortment – 25 Specimens $170.00
Large Assortment – 40 Specimens $240.00
PHYLUM ARTHROPODA
Jointed legs and an external skeleton are the two features that unite all arthropods. But the diversity goes a long way from there with semi-terrestrial amphipods bouncing around the drift grass, to gray sea roaches (isopods) scurrying up and down wharf pilings. Barnacles sweep their feather legs (cirri) through the water to snatch microscopic copepods. Best known are crabs, shrimps and lobsters. Small scavenging crabs and hermit crabs benefit a well balanced aquarium by cleaning out dead animals. Large predatory crabs are best kept in isolation. Shrimp do well in the aquarium if there is plenty of algae and NO LARGE FISH. All crustaceans thrive on a diet of chopped clams or fish.

AS-23 ARTHROPOD ASSORTMENTS.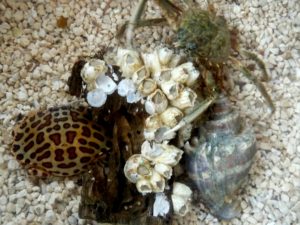 Included are amphipods, isopods, barnacles, crabs, shrimp, hermit crabs, and horseshoe crabs.
Small Assortment – 15 Specimens $120.00
Medium Assortment – 25 Specimens $170.00
Large Assortment – 40 Specimens $240.00
PHYLUM ECHINODERMATA
Since there are no fresh water echinoderms, this is one of the most popular phylogenetic assortments, with collections of writhing brittlestars lashing their snaky arms, bristling sea urchins and burrowing sand dollars. Sea cucumbers, shaped as their name implies, tunnel through the sediments like earthworms taking up nutrients and starfish creep up the aquarium glass, wrapping their arms around tunicates, or chopped clams. Sand stars emerge from sand and "speed" along the bottom, on raised tubed feet when a bit of food is dropped in the tank.

AS-24 ECHINODERM ASSORTMENTS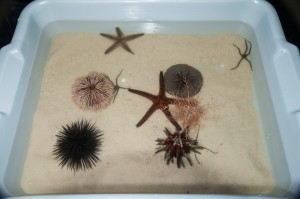 These assortments usually include two or three of every listing, and sometimes there are surprises such as sea biscuits and other echinoderms.
Small Assortment – 15 Specimens $120.00
Medium Assortment – 25 Specimens $170.00
Large Assortment – 40 Specimens $240.00
PHYLUM CHORDATA
The formation of a notochord, and then a backbone was a big step in evolution. Tunicates which produce 'tadpole' larvae are well represented in the glistening chunks of sea pork, knobby potato-like solitary forms or sea grapes. Tunicates absorb their notochords and sit like a sponge on the bottom. Not so with an amphioxus, which retains its notochord. And of course, fish are included in our assortment as well. A collection might contain: boxfish, toadfish, sand eels, blennies, gobies, and killifish—whatever is available.

AS-25 CHORDATE ASSORTMENT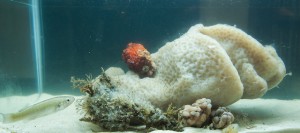 Includes non-vertebrate chordates: solitary, colonial, and encrusting tunicates and amphioxus.
Small Assortment – 12 Specimens $120.00
Medium Assortment – 25 Specimens $170.00

AS-260 FISH ASSORTMENT
The greatest diversity of fish form and function is found among marine species. Here the flat fishes, flounders, hog chokers, tonguefish, represent the epitomy of depression, and eels are the most elongate. Blowfish inflate themselves, and pipefish, looking like blades of grass, are perfect in camouflage. While these examples are likely to turn up in our fish assortment, there is no predicting the diversity and variety that will be provided. It is always a pleasant surprise.
Small Assortment – 6 Specimens $120.00
Medium Assortment – 10 Specimens $155.00
Large Assortment – 16 Specimens $192.00
AS-26 MARINE ALGAE ASSORTMENT With their diaphanous often dazzling colors, intricate designs and textures, the humble seaweeds are a treat for the eyes, and one of the great wonders on earth. Benthic marine algae grow where there is adequate light penetration for photosynthesis, a zone that makes up two percent of the ocean's total area. They are an essential part of the marine community, providing shelter and food for countless millions of marine animals. Some species, like Sea Lettuce (Ulva), are good to eat, filled with vitamins and minerals. Under the right light conditions, they grows so explosively they may someday help solve the world's food shortages. Others such as Laurencia are poisonous, but are being studied as sources of anti-cancer drugs. Create your own botanical gardens with our collection of semi-tropical macroscopic benthic marine algae. Phyla represented include Chlorophyta, Rhodophyta, Phaeophyta, and Cyanophyta.
Small Assortment – 9 species $88.00
Medium Assortment – 15 species $115.00