Sea Turtle Program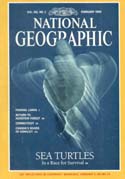 GSML's sea turtle research and conservation program, began in 1964, is the third oldest in the United States. GSML was an early advocate of providing legal protection when sea turtles were still commercially harvested. After passage of the federal Endangered Species Act, GSML coordinated with state and federal agencies and became the regional sea turtle rehabilitation center. GSML directors Jack and Anne Rudloe published a cover story in National Geographic Magazine featuring the program.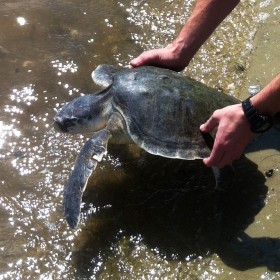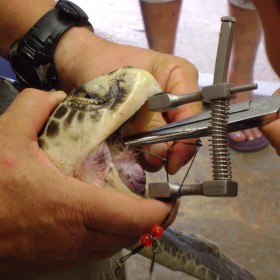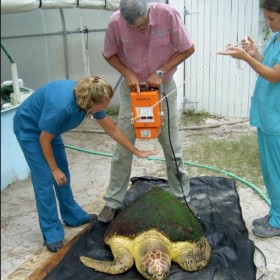 GSML treats and releases 5 to 20 endangered Kemp's Ridley sea turtles and protected Loggerhead sea turtles per year, most commonly for swallowing fishing hooks.  GSML collaborates with Wakulla County to treat turtles taken by recreational fishermen at a county pier. All group tours receive information on sea turtle biology and conservation in the course of their visit.    
Spot's Story
Of the seven species of sea turtles, Kemp's Ridley is the most endangered. Currently, Gulf Specimen Marine Lab is working on rehabilitating a once, very sick, Kemp's Ridley back to health. Because of a dazzling spot on the scutes of his shell, we have named him Spot the Magnificent!  Spot came to us through a local fisherman. As he was out on his dock, he found the sea turtle floating on the surface of the water. Sea turtles are reptiles and they need air to breathe, although they can hold their breath for an extended period of time. When they are sick, they will float on the surface of the water in order to ensure breath. At this sight, the fisherman called Jack Rudloe, who then brought the sea turtle back to the lab. Spot was not eating and was barely able to swim. We took him to Dr. Griggs, our veterinarian, for examination. This was when we found out he had a respiratory ailment and was malnourished. Dr. Griggs wanted to keep Spot for careful observation, and he remained at the vet's office for a week. During that time, a feeding tube was inserted in the top of his head leading to his stomach.We have been working with Spot for the past month. Each day, he gets a tube of blended crab meat and fish fillet fed to him. He also gets two shots of different antibiotics every other day. Along with this, we are trying to get him to eat on his own.  Spot has been gaining weight and the feeding tube has been removed we are hoping to return him to the wild once he has regained enough weight and  strength.
Allie's Story
Allie is a loggerhead sea turtle rescued on May 15, 2012. She was found floating, sick and weak near Alligator Point Beach. She is approximately 50 years old and weights 250 lbs. When she arrived at GSML she was very thin and emaciated. After several visits with our veterinarian and our staff working closely with her she is 100% better. She has put on considerable weight, and is able to submerge to hunt food. After recieving a clean bill of health from our veternarian we released her on June 22,2013 at Bald Point State Park For updates on our sea turtles program at the lab like us on Facebook.


"Little Girl" Our Resident Sea Turtle
Little Girl is a juvenile loggerhead sea turtle on display at GSML. She is approximately 8 years old and weighs about 40 pounds. Little Girl is an ambassador for sea turtles. She has helped staff at GSML teach thousands of people of all ages and backgrounds about sea turtles, helping to protect them and their environment.